Why It Matters
When the apple fall a little nearer the tree than most – the lessons can inspire!!.
But this, this……this….. was Meghan McCain, right? Daughter of  Senator John McCain. 
who recently penned two befitting daughter-to-father letters –
as only an adoring daughter can write
. The letters unveiled 
heartbreak,
hope and a deep reflection!
After the Diagnosis: ..When news of her father's brain cancer diagnosis broke, she had written an emotional letter.  The senior McCain, was diagnosed with an aggressive form of brain cancer – the same cancer, in fact, that caused the untimely death of Beau Biden [Joe Biden's son], as well as Ted Kennedy.
While sharing the sentiments of the entire McCain family, being shocked to learn of the diagnosis, and asked for prayers, she  also candidly mentioned her father's confidence and strengths.
"He is the toughest person I know. The cruelest enemy could not break him. The aggressions of political life could not bend him," she wrote.

"Cancer may afflict him in many ways: But it will not make him surrender," McCain continued. "Nothing ever has."
Her tweets left me feeling many feelings, and sadness floated to the surface. But then again  I felt elated, by her tweets, it appeared she had been a good student of the father.
She wrote; 
And then ………..last week she paid a prolific tribute to her father.
Daughters Tribute to Father
When Senator John McCain died last week, the tributes were quick to mention his family's prestigious lineage within the American military. McCain's father and grandfather [both of whom shared his name] were the first father and son in Navy history to become full admirals.
Often overlooked however, is the influence McCain's mother, Roberta, "a old- rusty- tough-as-nails-mother" had on his upbringing and political life. At 106 years, she has outlived the child she still calls "Johnny," whose death she faced once before when he was shot down over Vietnam and presumed lost.
Roberta, who spent years crisscrossing the globe, often alongside her identical twin sister, Rowena, eager for whatever spontaneous adventure came next. She has ridden through the Jordanian desert in the dark of night, ……trekked through Europe ……
Roberta and Rowena were born in 1912.  Her family would travel for weeks, sometimes along the California coast or by the banks of the Great Lakes.  Trips which later serves as the blueprints for what Sen. McCain in his memoir, "Faith of My Fathers."described as his mother's "mobile classroom" –  one that could show her children the world's wonders in ways a four-walled classroom could not.
McCain's seven children, are  from two marriages.
Cindy, his wife, in many interviews has revealed how in 1991 while on a humanitarian trip to Bangladesh, nuns asked her to help a newborn orphan with a cleft palate. Without asking John, they brought the girl home, and adopted her as their final child, Bridget!!
Grim and concentrated looks aside, this is the deep and serious, yet passionate and fun loving man who departed this life, at 81 years, last week.
As tributes to McCain, who will be laid to rest on Sunday 2nd September 2018 continue to pour in.  Meghan the eldest of the four children of John and Cindy, took to social media with a deeply moving tribute to her late father .
…..Like father, like daughter….!…
And thats the real ninja part. She has such beautiful turns of phrase and cheek in her writing, which make her voice heard – loud and clear. 
This time it was an inspiring daughter-to-father letter with heaps of life lessons, for us all. And which, I presume, would make any father – daughter immensely proud.  Of course, mothers and sons too, as I trust we can all relate with it
In part, she wrote on Twitter:
"I was with my father at his end, as he was with me in my beginning. In the thirty-three years we shared together, he raised me, taught me, corrected me, comforted me, encouraged me, and supported me in all things."
In her letter, Meghan wrote;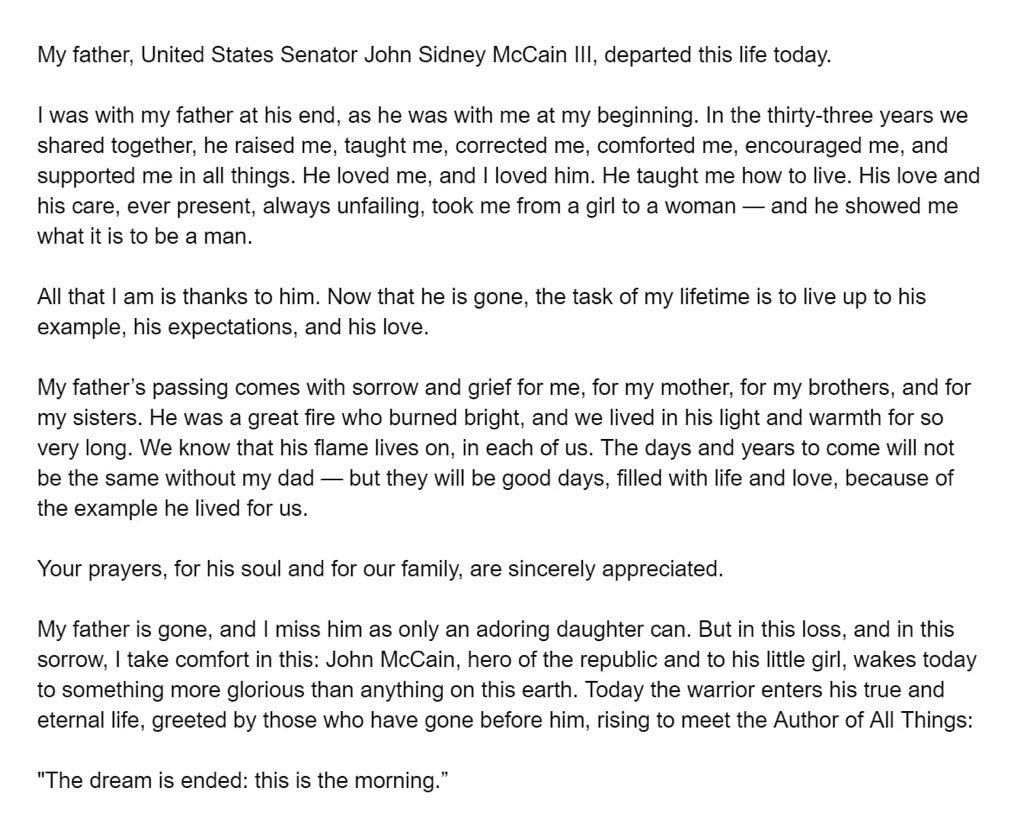 At the end of the letter, it made me  stop, and as I listen to my breath, it made me want to go back to read it again.
Meghan sounded passionate about what she had learned and what she promised her father…….
……..Share this!
I thought these letters should inspire you, as for me, I think they persuade me with confidence that John McCains' is a life well lived – values were certainly transmitted – to the next generation.
……Agreed? ……
Related
Comments
comments